1 thru 10 of 3775 Stories
Apple on Monday laid out the details of its news subscription service, Apple News Plus, at an event Monday.
British Prime Minister Theresa May is easing away from plans to hold a third vote on her troubled Brexit withdrawal plan as protesters gathered in central London on Saturday to demand a second referendum.
Prime Minister Theresa May used to promise "strong and stable" government. Fellow EU leaders used to believe her. But then came almost three years of Brexit missteps and mayhem.
So much for those worries about rising interest rates.
The Federal Reserve sent a stark message Wednesday: The economy is slowing. And it won't be raising interest rates anytime soon.
Unsolicited money advice is like stale fruitcake: Most people wish the givers would just keep it to themselves.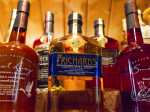 For American whiskey producers, their tariff-induced hangover became more painful in late 2018 when a downturn in exports accelerated, especially in the European Union — the industry's biggest overseas market.
The rising water that has damaged hundreds of homes and been blamed for three deaths has also taken a heavy toll on agriculture, inundating thousands of acres, threatening stockpiled grain and killing livestock.
Former coal miner John Robinson's bills for black lung treatments run $4,000 a month, but the federal fund he depends on to help cover them is being drained of money because of inaction by Congress and the Trump administration.
Contrary to the views of most economists, the Trump administration expects the U.S. economy to keep booming over the next decade on the strength of further tax cuts, reduced regulation and improvements to the nation's infrastructure.
1 thru 10 of 3775 Stories