1 thru 10 of 6994 Stories
Yalitza Aparicio, the Oscar-nominated, first-time actress in "Roma," is finding strong support among Mexican-American women who identify with her indigenous roots despite backlash she is receiving in Mexico.
R. Kelly, the R&B star who has been trailed for decades by allegations that he violated underage girls and women and held some as virtual slaves, is due in court Saturday after being charged with aggravated sexual abuse involving four victims.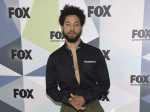 Lawyers for Jussie Smollett say the Chicago Police Department put on an "organized law enforcement spectacle" when its superintendent detailed investigators' findings about the alleged attack on the "Empire" actor.
Jussie Smollett is enmeshed in weekly drama on the set of "Empire," the Fox TV series that gave the actor a breakout role and the fame to advance his social activism.
Democratic politicians and celebrities called it a shocking instance of Trump-era racism and hate. Republicans now depict it as yet another example of liberals and mainstream media rushing to judgment while disparaging the president's supporters as bigots
Two brothers who played central roles in what Chicago police say was a staged racist and homophobic attack on Jussie Smollett are, compared to the "Empire" actor, so far walking away legally unscathed.
As authorities laid out their case against "Empire" actor Jussie Smollett, the narrative that emerged Thursday sounded like that of a filmmaker who wrote, cast, directed and starred in a short movie.
Police tapped into Chicago's vast network of surveillance cameras — and even some homeowners' doorbell cameras — to track down two brothers who later claimed they were paid by "Empire" actor Jussie Smollett to stage an attack on him.
The alleged fabrication is one of the biggest superstar scandals in recent memory, but Jussie Smollett joins a list of celebrities, athletes and others who faced a similar backlash.
President Donald Trump took to Twitter Thursday to react to the latest developments involving "Empire" star Jussie Smollett.
1 thru 10 of 6994 Stories