Biographer Garry O'Connor Looks Into What Makes Ian McKellen Tick
In the new film "The Good Liar," Ian McKellen relishes playing a duplicitous scoundrel out to swindle Helen Mirren. One moment he's an enfeebled invalid barely able to walk into the hospital, the next he is strutting down a London street like a dandy; and in that moment you can't help but fall for this unrepentant rogue.

Such a moment illuminates why McKellen remains one of the English-speaking world's greatest actors at the age of 80. He started in 1961 on the stage as part of a repertory company in Coventry, England, then went on to playing leading Shakespearean roles with the National Theater and the Royal Shakespeare Company throughout the '70s and '80s. While he made movies during this period, it wasn't until the '90s did he find roles in America, winning an Emmy Award for the television miniseries "And the Band Played On" in 1993. But it was in 1995 that he became a world-wide known actor for his roles in two franchises: Magneto in the "X-Men" series and, more significantly, as Gandalf in the "The Lord of the Rings" films. He received his second Oscar nomination for the role in 2003 as a supporting actor; his first came in 1998 for "God and Monsters," for which he received a Best Actor nomination. And while he has yet to win an Oscar, he has won six Olivier Awards (for his work on the London stage), a Tony Award and a Golden Globe Award.

Nor does McKellen show any hint of slowing down. In addition to "The Good Liar," a current art house hit, he is featured as Gus the Theatre Cat in the upcoming screen adaptation of "Cats," the Andrew Lloyd Webber musical juggernaut that comes to movie theaters this Christmas. He is also (and currently) appearing in the West End in an autobiographical show "Ian McKellen on Stage" that runs through January 5.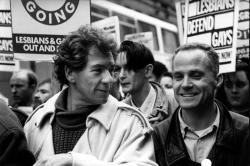 In reviewing the play for The Times of London, critic Clive Davis writes: "The grand old man really isn't grand at all. He may have a knighthood and a seat at Hollywood's top table, but one of the lessons of this captivating one-man show is that Ian McKellen still possesses a childlike sense of wonder at the life of an actor. All he cares about is sharing that passion with us, his audience."

McKellen was one of the first actors to come out. That was in 1988 when he did so as a statement against pending anti-gay legislation, called Section 28 that limited local authorities from "promoting homosexuality." "My own participating in that campaign was a focus for people [to] take comfort that if Ian McKellen was on board for this, perhaps it would be all right for other people to be as well, gay and straight," he later said of his participation.

Opponents of legislation may have lost that battle (Section 28 passed, but was later rescinded), but his participation led McKellen to become a leading LGBTQ activist, co-founding the British activist group Stonewall in 1989 and participating in LGBTQ causes over the years.

"The breadth of his career—professional, personal, and political—has been truly staggering: 'Macbeth' (opposite Judi Dench), Iago, King Lear, Chekhov's Sorin in 'The Seagull,' and Beckett's tramp Estragon (opposite Patrick Stewart) in 'Waiting for Godot,'" reads a press release for the recently published, definitive biography of the actor, "Ian McKellen" by Garry O'Connor. "In addition to all this, McKellen's tireless political activism in the cause of LGBTQ equality makes him a veritable phenomenon."

Equally adept at fiction and non-fiction, O'Connor is no stranger to writing actors biographies. He has written acclaimed biographies of Laurence Olivier, Ralph Richardson, Paul Scofield, Peggy Ashcroft, and Alec Guinness. In addition, he has written and presented programs for radio, including Campion's Ghost for Radio 4, adapted from his novel about John Donne. With this book, he has the good fortune of knowing his subject since their college days.

EDGE spoke to him recently about his McKellen bio.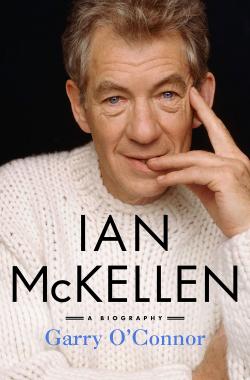 No 'definitive' biography
EDGE: Why now for an 'Ian McKellen' biography?

Garry O'Connor: Up to now, while there have been two previous biographies (1986 and 2006), there has been no 'definitive' biography, encompassing the whole man's life and his work, including his tireless political activism for LGBT rights, as well as his universally recognized and well-loved film and stage roles, notably Gandalf in "Lord of the Rings," Magneto in "X-Men," "Richard III," and peaking with "King Lear." Ian is eighty, as mysterious, complicated and private as ever, and the timing is perfect for my biography, for he has repeatedly turned down requests to write his own life, including an offer of over a million pounds, and still says he is unwilling and unlikely to take on that task himself. According to the London Sunday Times review my biography 'might be as close as anyone gets.'

EDGE: And what was it like to dive so intimately into someone else's life?

Garry O'Connor: My good fortune is that I have known him since he and I shared years together as students at Cambridge University, and I directed him in early plays. I had the privilege and insider knowledge of his background, and of his powerfully influential generation in the performing arts. This has resulted in a closeness of personal detail and an intimacy of knowledge right from the very beginning, which has instructively increased, not only enriching my own life and understanding of Ian's life and my own, but widening to a wider relevance and even universal resonance. The life has grown into not just the life of an actor; but a life of everyman.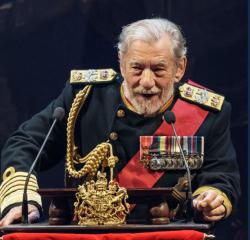 Any surprises?
EDGE: Was there anything you learned about Ian that surprised you?

Garry O'Connor: His life has been a continuously developing drama full of mystery, complications to unravel, shock and surprise. What I didn't know but surprised me was the early loss of his mother from cancer, and not all that much later of his strict, non-conformist religious father, who was a pacifist in World War II, and to whom he could never reveal he was gay before he died in an horrific car crash.

His constant, unremitting ambition to become a great actor—and undoubtedly he is the most famous actor in the English-speaking world—was, as I uncovered episode after episode, full of surprises, awesome in its breadth and dedication, but also in his love and embrace of fellow professionals, people of all ages and classes, and especially the weak and disadvantaged.

The whole of the narrative of his coming out in 1988 was a revelation to me, which I have done my best to chronicle fully, both in its personal implications for him and his inner growth, and with its wider social implications and importance for sexual equality.

EDGE: You must have interviewed a lot of people for your book. How did you find people to talk to?

Garry O'Connor: Here again I fortunately could engage about Ian with friends and colleagues going way back to early days, as I began interviewing for the book well over a decade ago. He has given many frank interviews himself and written day to day diaries of parts of his life. I have drawn on these, as well as my own talks with him, to establish his living presence in the book, which comes over well in the audio book, when the actor Andrew Wincott imitates the famous McKellen voice. Ian answers the questions,' 'When and where were you happiest?' with 'Now and here.'
'Gandalf pays!'
EDGE: What was one of the more interesting facts you learned about him?

Garry O'Connor: One of the most interesting facts I learned is that he was by no means the first choice to play Gandalf, which was offered and turned down by Sean Connery and Christopher Plummer among others. No one could have been more perfect casting, but as he admits, 'No one is ever first choice.' Now when he takes out friends and colleagues to dinner, he rises at the end, looks around and says, 'Gandalf pays!' There are a host of other anecdotal surprises, such as what he most dislikes about himself are his left ear and both knees, and the trait he most deplores in himself is procrastination.

EDGE: How would you compare Ian to your other book subjects?

Garry O'Connor: It may sound presumptuous, that why while Ian comes nearest perhaps to Alec Guinness in mysteriousness and complexity, and keeping a secret to himself, the nearest subject I would compare him to is Shakespeare, the great and overriding love of his life, and whose life I have also written. His connection to Shakespeare runs as a constant thread through his life, and Ian's many- sided skills and universal breadth as an actor mirror that of the dramatist, who was at the same time everyone and no one.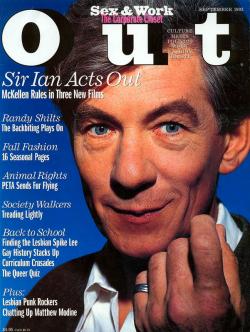 A British cultural icon
EDGE: Ian McKellen is regarded as a British cultural icon. How does he feel about that label?

Garry O'Connor: it sits easily and justly on him, and he greatly enjoys his eminence and popularity in his frequent hilarious chat shows and public appearances. He is a wonderful, even paradoxical mixture of supreme performer ego, and disarmingly thoughtful and kind modesty. These wouldn't perhaps work in anyone else as well as they do in Ian, and in this respect he is unique. What I have delighted in showing, as well as some of his relationships about which little has been known (the film star Gary Bond for example), with a lot his gossip and constant humour along the way, is how he draws everyone into his generosity. He may be said to be the supreme acting personality of his times, the mirror of this age, showing its true form and image.

EDGE: As a playwright, how does the writing process differ when writing a biography?

Garry O'Connor: Writing plays, and also the early experience I had as a theatre director, closely inform my biographies as I concentrate on the dramatic inner life and development of the subject, the rising of a life from exposition through rising crises to its resolution, and how he or she can be shown in action and thought, and not theorized over or judged, or swamped by opinion or speculation. The prime purpose is to recreate the person, bring him or her to life, and tell their story. The difference of biography is that you have to find interesting facts and witnesses, get the facts right of course, and not take liberty with them.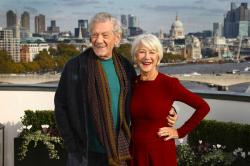 Favorite role?
EDGE: Do you have plans to write another celebrity biography?

Garry O'Connor: Oh yes, definitely, I have enjoyed this one enormously, and am pursuing a new subject, someone very much alive and contemporary, much younger— and inevitably English.

EDGE: If you had to choose one Ian McKellen film, what would it be?

Garry O'Connor: The one just released, "The Good Liar," in which he plays opposite Helen Mirren. He is Roy, an octogenarian conman with an espionage backstory culled from the novels of John Le Carre. He displays yet again all the shades of his great stage role for the Royal Shakespeare Company, perhaps one of his greatest—'honest, honest Iago 'in Othello, and literally Roy ' puts money in his purse', as Iago exhorts, by devouring Betty, a rich unsuspecting widow played by Mirren, and her fortune. Like Iago he bites off more than he can chew.

"Ian McKellen," published by St. Martin's Press, is available in bookstores and on Amazon. For more information on Garry O'Connor visit, visit his website.

1988: With Michael Cashman on 20,000-strong March in Manchester, protesting Section 28, which banned ''the promotion of homsexuality'' in state-funded UK schools.
Comments on Facebook