When Ramin escapes Iran where is persecuted for being gay, he ends up in Veracruz — where he still feels he cannot be himself.
Hollywood's powerhouse gay glitterati are throwing their support to Mayor Pete's candidacy, with none other than Ryan Murphy set to host a fundraiser for him in June.
There were more than a few sniffles from the audience at the premiere of "Avengers: Endgame" Monday night in Los Angeles, which Chris Evans and Chris Hemsworth proudly admitted contributing to.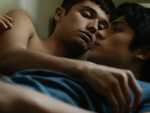 An Argentinian coming-of-age drama, based on a true story, that doesn't end well.
Veteran British filmmaker and seven-time Academy Award Nominee Mike Leigh takes a look back at a disgraceful - if largely forgotten - moment in English history.
Argentinian gay auteur Marco Berger's latest movie is a slow-burning and extremely sensual romance.
Christaan Olwagen' musical gay dramedy is set in South Africa in 1980s, when the locals... and Boy George... were still in the closet.
When the mother of 15-year-old Socrates dies, he's left alone to survive and deal with his sexuality in one of Sao Paulo's roughest ghettos in this very unforgettable film.
The Warner Bros. horror film based on a Mexican legend about a woman who murdered her children and wanders the world looking for them brought in $26.5 million as the weekend's top film.
This charming road movie takes its two characters - boyhood friends trying to reconnect - to unexpected, but fortuitous, places.