A fascinating work of psychosexual politics and secondhand humiliation, Ingmar Bergman's "Sawdust and Tinsel" arrives on Criterion Collection Blu-ray.
Sony Pictures dropped the teaser trailer for the upcoming "Spider-Man: Far from Home," the sequel to the popular 2017 blockbuster "Spider-Man: Homecoming." The new film features Jake Gyllenhaal as Quentin Beck / Mysterio.
Alfred Hitchcock's "Vertigo" has been examined and mimicked for years, and Director Brian De Palma offers up a variation of Hitchcock's story of duality in a new Blu-ray release.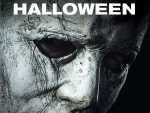 It's the moment every die-hard "Halloween" fan has been waiting for: The original iconic character of Laurie Strode (Jamie Lee Curtis) returns for the first time since 2002.
The Screen Actors Guild on Monday called on the film academy to stop trying to prevent stars from appearing on award shows before the Oscars.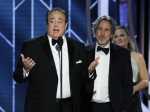 "Green Book" co-writer Nick Vallelonga has apologized for a 2015 tweet about Muslims and 9/11 that has resurfaced a few days after the film won a Golden Globe Award.
"Roma" is the top winner at the Critics' Choice Awards, winning best picture, foreign language film and a pair of individual honors for director Alfonso Cuaron.
Kevin Hart isn't hosting the Oscars, but he's got a number one movie.
History sometimes seems ruled by events with unintended consequences. That certainly is the case with the Mardi Gras Ball at California Hall - an event that's been called 'San Francisco's Stonewall,' a name that's a bit misplaced.
Yalitza Aparicio says her role as Cleo, a domestic worker central to the awards season darling "Roma ," is more personal. It was her mother's profession, and Aparicio says she set out to make it a tribute to her mother and others like her.