Watch: Randy Rainbow Croons Over Trump's Love Affairs — with Dictators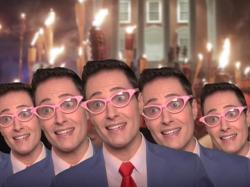 Singing political commentator and satirist Randy Rainbow is back with a brand new video in which he croons about Donald Trump's mad man-crushes on the world's most brutal dictators to the tune the "South Pacific" song "I'm in Love With A Wonderful Guy," notes Broadway World.com.

Riffing right off on the president's romantic views of tyrants, Rainbow introduces Trump as "the latest castoff from 'The Bachelor Hanoi,' fresh off his second meeting with North Korean leader Kim Jong Un."

Rainbow's parody interview clips typically integrate footage from real interviews but in this instance, both Rainbow and Trump seem to share the screen simultaneously. "I don't see a rose," Rainbow gushes. "Does that mean no denuclearization?"

"We didn't sign anything today," Trump appears to answer him. "It didn't quite work out..."

Assuming a "confide in me" look, Rainbow queries, "Did you guys do it?"

"I just don't think maybe either of us were ready," Trump responds.

Trump goes on to say, "We'll see what happens. Again, the relationship is very good; he like me, I like him. Some people say, 'Oh, you shouldn't like him.' But why shouldn't I like him?"

Shrugging, Rainbow posits, "Maybe because he's a deranged dictator who starves his people and executes members of his own family?"

Trump seems to ponder that as Rainbow pauses and then jumps back in with: "But, you know, we all have... my boyfriend doesn't put down the toilet seat. So..." rolling his eyes, Rainbow snorts, "Men!"

"Well, no, I just think... first of all, he's... he's a character," Trump responds.

Donning his signature pink cat-eye glasses, Rainbow tackles the Republican Party Elephant-sized question looming over the exchange. "What's your response to critics who accuse you of consistently siding with foreign adversaries over your own intelligence officials?"

"Why shouldn't I like him?" Trump reiterates. "I like him; [we] get along great..."

"Uh huh, and what do you say to those who worry that your naiveté and reckless behavior are jeopardizing national security and putting us all in grave danger?" Rainbow asks, with a sweet smile.

"We'll see what happens," Trump says. "Again, the relationship is very..."

Cue the music. Rainbow, facing the camera with a "Can you believe this?" expression, launches into the song's rewritten lyrics. "You would think he'd obey when his own intel agencies tell him to watch out for Putin & Kim."

AS Trump continues to reel off the qualities he admires about Kim Jong Un, Rainbow resumes, "Be he's too egocentric to do what those men think is best for the country instead of for him. Yet, he's as obedient as a tiny pup for any louse on a nuclear list 'cause when his own daddy issues start flaring up, there's not a psychopath he can resist."

As the song continues, Rainbow swings into the next verse:

"He gets horny for absolute power; treacherous goons put a gleam in his eye. His taste in men stinks; now he says that he thinks he's in love — and we're all gonna die!"

As the song continues, Rainbow makes reference to the testimony of former Trump attorney Michael Cohen, which Trump, upon his return from the summit in Vietnam with Kim, suggested was the reason he was unable to make any progress with regard to North Korea's nuclear weapons. Of "anyone who disagrees" with Trump, Rainbow observes, "he's a hater, but ruthless dictators sure make him go weak in the knees!"

Shortly afterward, photos of Trump with various strongmen appear: Kim Jong Un; Saudi Crown Prince Mohammed bin Salman, a focus of global condemnation in the wake of allegations that Salman ordered a journalist's murder; and Russian president Vladimir Putin. The images flash by as Rainbow sings soaringly, "He's in love, he's in love, he's in love, he's in love — he's in love, and we're all gonna die!"

The scene switches to Trump addressing a crowd at a rally in which he says, "We fell in love. Okay? No, really. He wrote me beautiful letters!"

"Sure it seems 'treasony,' " a chorus of Rainbows — duplicated images of the comedian singing in perfect synchronicity and sporting the pink cat-eye glasses — jump in, "but can't you see he's in love with a wonderful guy! He's so thirsty for thugs and delinquents, there's not a Nazi he can't justify. And he could cream from an evil regime! Sorry, kids — but we're all gonna die!"

In the background, an animated nuclear missile takes flight. Giggles Rainbow, "I'm just kidding!"

The song bounces along from there, with Rainbow finally summarizing: "Though he's appalled when it comes to a Baldwin, he loves autocratic, tyrannical, lying, oppressive, despotic, inhuman, plain awful, maniacal, vicious, sadistic and vengeful, atrocious and all-around a-holes with whim he's in love — and we're all gonna die!"

The climactic barrage flashes more photos of Putin, bin Salman, Kim, and — in a further reference to Trump's ongoing domestic difficulties — Roger Stone, the Trump ally who faces charges for telling lies to Congress about his dealings with Wikileaks during the 2016 campaigns. Stone generated headlines last month when he posted a photo of the federal judge presiding over his trial, Amy Berman Jackson, with a gun sight superimposed over the image. In the same post, Stone decried what he called his "show trial," as well a Judge Berman, who he dismissed as an "Obama appointed judge," media outlets reported at the time.

Watch the new political parody video below.



Kilian Melloy serves as EDGE Media Network's Assistant Arts Editor. He also reviews theater for WBUR. His professional memberships include the National Lesbian & Gay Journalists Association, the Boston Online Film Critics Association, The Gay and Lesbian Entertainment Critics Association, and the Boston Theater Critics Association's Elliot Norton Awards Committee.
Comments on Facebook