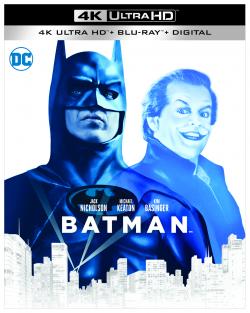 LONG LIVE THE BAT!

WARNER BROS. HOME ENTERTAINMENT CELEBRATES THE 80TH ANNIVERSARY OF DC's POPULAR SUPER HERO BATMAN WITH

BATMAN, BATMAN RETURNS, BATMAN FOREVER
AND BATMAN & ROBIN

COMING TO ULTRA HD BLU-RAY COMBO PACK AND DIGITAL FOR THE FIRST TIME FEATURING DOLBY ATMOS

Warner Bros. Home Entertainment and DC announced today that four Batman titles will be released on 4K UHD to celebrate the 80th anniversary of the DC Super Hero created by Bob Kane and Bill Finger. The films include 1989's Batman and 1992's Batman Returns, directed by Tim Burton, and 1995's Batman Forever and 1997's Batman & Robin, directed by Joel Schumacher. The four films, which earned more than $1.2 billion in global box office, have been remastered in 4K UHD for the first time. The films will be available as 4K UHD singles on June 4 and will also be available as a four-film collection on September 17. The 4K UHD singles and the four-film collection available in September will also include remastered Blu-ray discs of the films.

The Dark Knight of Gotham City begins his war on crime with his first major enemy being the clownishly homicidal Joker. 1989's Batman was directed by Tim Burton and stars Jack Nicolson as The Joker and Michael Keaton as the Caped Crusader. Produced by Jon Peters and Peter Guber from a screenplay by Sam Hamm and Warren Skaren, the film also stars Kim Basinger as Vicki Vale. The film won an Academy Award for Best Art Direction

When a corrupt businessman and the grotesque Penguin plot to take control of Gotham City, only Batman can stop them, while the Catwoman has her own agenda. 1992's Batman Returns was also directed by Burton and stars Keaton again as The Dark Knight. Produced Denise Di Novi and Burton, the screenplay is by Daniel Waters from a story by Waters and Sam Hamm. The film also stars Danny DeVito as Oswald Cobblepot/The Penguin, Michelle Pfeiffer and Selina Kyle/Catwoman and Christopher Walken as Max Shreck.

Batman must battle former district attorney Harvey Dent, who is now Two-Face and Edward Nygma, The Riddler with help from an amorous psychologist and a young circus acrobat who becomes his sidekick, Robin. 1995's Batman Forever was directed by Joel Schumacher and stars Val Kilmer as Batman.
Produced by Tim Burton and Peter McGregor-Scott, the screenplay is by Lee Batchler, Janet Scott-Batchler and Akiva Goldsman from a story by Batchler and Batchler-Scott. The film also stars Tommy Lee Jones as Harvey Dent/Two-Face, Jim Carrey and Edward Nygma/The Riddler, Nicole Kidman as Dr. Chase Meridian, and Chris O'Donnell as Dick Grayson/Robin.

Batman and Robin try to keep their relationship together even as they must stop Mr. Freeze and Poison Ivy from freezing Gotham City. 1997's Batman & Robin saw Joel Schumacher return as director and stars Arnold Schwarzenegger as Dr. Victor Fries/Mr. Freeze and George Clooney as Batman. The film was produced by Tim Burton McGregor-Scott and written by Akiva Goldsman and also stars Chris O'Donnell as Dick Grayson/Robin, Uma Thurman as Dr. Pamela Isley/Poison Ivy, and Alicia Silverstone as Barbara Wilson/Batgirl.

Enter to win!

Thanks for visiting EDGE!





Enter this contest
If you already have an account with EDGE, all you need to do is log in; we'll pull your address information from your account and simply ask you to verify it. If you do not yet have an account with us, register now! It's easy and free, and you'll never have to type in your personal information again. If you prefer to enter this information manually, you can use the manual entry link below.
Register
Manual Entry
Click here for contest rules.
* Please be aware that creating multiple accounts for the same person will disqualify you.