Top Story
A new study says Americans are becoming increasingly sedentary. They spend almost a third of their waking hours sitting down, and computer use is partly to blame.
1 thru 10 of 1564 Stories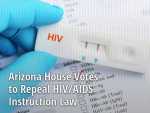 Arizona lawmakers on Wednesday took a major step toward repealing a 1991 law that bars HIV and AIDS instruction that "promotes a homosexual lifestyle," a move prompted by the filing of a lawsuit by LGBT groups.
A Honduran transgender migrant, whose 2018 death while in the custody of U.S. Immigration and Customs Enforcement sparked protests and calls for an investigation, died of a rare disorder that developed quickly due to AIDS, according to an autopsy.
LGBT groups sued Arizona last week, asking a federal judge to strike down a state law prohibiting HIV and AIDS instruction that "promotes a homosexual lifestyle."
Surgeons in Baltimore performed what's thought to be the world's first kidney transplant from a living donor with HIV, a milestone for patients with the AIDS virus who need a new organ.
Not long ago, being able to take a pill to prevent HIV seemed like a far-off dream. Now that dream is a reality, so why aren't more people taking this life-saving medication?
The victims of a British man who deliberately infected them with HIV are featured in a new BBC documentary, where they share their stories.
HBO is working with the American Red Cross for a "Game of Thrones" contest that excludes gay and bisexual men with some calling the initiative discriminatory.
Monthly shots of HIV drugs worked as well as daily pills to control the virus that causes AIDS in two large international tests, researchers reported earlier this month.
A London man appears to be free of the AIDS virus after a stem cell transplant, the second success including the "Berlin patient," doctors reported.
A Kentucky man accused by the Singapore government of stealing a database of HIV patients has been jailed in the U.S. on federal charges of illegally possessing Singaporean identification documents.
1 thru 10 of 1564 Stories