1 thru 10 of 6225 Stories
The owner of a Kentucky barbeque food truck got more heat than he bargained for when he began selling T-shirts with the message "I support LGBTQ: Liberty, Guns, Bible, Trump, BBQ."
Kevin Hogan, chief executive of insurer AIG's Life & Retirement division, spoke with The Associated Press about longevity, financial anxiety and other issues surrounding retirement in the U.S.
Macy's and The Trevor Project are rolling out a series of initiatives aimed at raising funds and awareness for Trevor's life-saving mission and services for at-risk LGBTQ young people.
Stop & Shop supermarket workers and company officials reached a tentative contract agreement Sunday that includes wage increases for all associates and maintains health coverage, according to news releases from both parties.
Actress Anjelica Huston is supporting efforts to outlaw fur sales in the fashion mecca of New York.
While there are a few exceptions, Mueller's investigation repeatedly supports news reporting that was done on the Russia probe over the last two years and details several instances where the president and his team sought to mislead the public.
Workplace wellness programs have become an $8 billion industry in the U.S. But a study published Tuesday in JAMA found they don't cut costs for employers, reduce absenteeism or improve workers' health.
Amazon and Walmart on Thursday kicked off a two-year government pilot program allowing low-income shoppers on government food assistance in New York to shop and pay for their groceries online for the first time.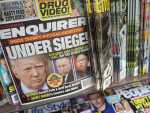 The National Enquirer is being sold to the former head of the airport newsstand company Hudson News following a rocky year in which the tabloid was accused of burying stories that could have hurt Donald Trump's 2016 presidential campaign.
Mainstream retailers are leaping into the world of products like skin creams and oils that tout such benefits as reducing anxiety and helping you sleep. The key ingredient? CBD, or cannabidiol, a compound derived from hemp and marijuana.
1 thru 10 of 6225 Stories