Top Story
Making unverified claims about "unknown Middle Easterners" and prayer rugs found by ranchers, Trump drew eye rolls last year. Trump's new cries of alarm are again be...
1 thru 10 of 48259 Stories
Charlize Theron is revealing that she's raising her child Jackson, whom she adopted and introduced to the world as a boy, as a girl.
Openly gay 2020 Democratic hopeful Pete Buttigieg continued a busy week when he stopped by "Late Night with Seth Meyers."
Rebuilding Notre Dame, the 800-year-old Paris cathedral devastated by fire this week, will cost billions of dollars as architects, historians and artisans work to preserve the medieval landmark. But little of the money will come from insurance companies.
Israeli police say they detained four suspects involved in an attempt to smuggle two baby goats into Jerusalem's most sensitive holy site for a ritual sacrifice.
An arsenal of new technology is being put to the test fighting floods this year as rivers inundate towns and farm fields across the central United States.
President Donald Trump's spokeswoman Sarah Sanders pushed back Friday against allegations that special counsel Robert Mueller's Russia report exposed a culture of lying at the White House.
Former Vice President Joe Biden is expected to announce he's running for president next week.
Police in Northern Ireland said Friday they are searching for multiple suspects in the fatal shooting of a journalist during overnight rioting in the city of Londonderry.
President Donald Trump and his attorney general are distorting the facts when it comes to special counsel Robert Mueller's report in the Russia investigation.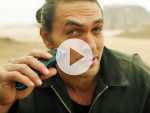 "Aquaman" is clean-shaven.
1 thru 10 of 48259 Stories