Gay Washington: The Latest
Ambassadors to Poland from some 50 countries and international organizations have expressed their support for the LGBT community in the country, citing a need to work for "non-discrimination, tolerance and mutual acceptance."
The upstate New York man who was arrested for displaying a 7-foot yard peen this past June pleaded not guilty this past week.
Betsy DeVos' nephew, who is married to Kathie Lee Gifford's daughter, appeared on "Family Feud" this week but is going viral on Twitter for a different reason.
Noah Purvis was brought on to CBS's "Love Island" to shake things up. He did do that.
Last week Shia LaBeouf stole the show in a streamed, all-star reading of "Fast Times of Ridgemont High." Watch an edited video with just his scenes.
A new national survey from The Trevor Project reveals alarming statistics regarding mental health and suicide rates of LGBTQ youth. Does it get better? It depends on who you ask.
Despite an overall decrease in HIV infection rates, the rates for Hispanic/Latino men who have sex with men are more than four times that of white males. EDGE finds out why.
Channing Tatum wants his fans to know that he's back, and did so with a black-and-white thirst trap.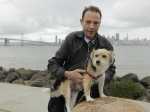 Timothy Ray Brown, the first person known to have been cured of HIV infection, says he is now terminally ill from a recurrence of the cancer that prompted his historic treatment 12 years ago.
Queer cowboys have been around as there has been the Old West. Here are some pics from today's out and proud queer cowboy culture.

Cardinal George Pell, Pope Francis' former finance minister, will soon return to the Vatican during an extraordinary economic scandal for the first time since he was cleared of child abuse allegations in Australia five months ago.
British pop star Will Young explained in his new book that before coming out, he would purchase gay porn magazines at the subway station and pleasure himself on board while traveling home.
With the movie industry in the doldrums due to the pandemic, a Texas-based movie theater chain has come up with a novel idea to bring people back to the theaters.

Unicode recently announced Emoji 13.1, a series of 217 new emoji to be released in 2021, including new LGBTQ-related emoticons.
"He doesn't want to crush the virus. He wants to crush the Affordable Care Act," says House Speaker Nancy Pelosi of President Trump. Will his wish come true with a shift in the Supreme Court?
You've probably heard the phrase "your mileage may vary" with regard to how your fuel economy compares to the EPA estimate. Edmunds has found, however, that the variance can be even greater with an EV.
For his first-ever Milan show, Valentino's creative director Pierpaolo Piccioli chose a disused foundry as the backdrop for the lush, romantic collection in the fashion language of lattice and lace; floral detailing and bold prints; ruffles and fringe.
September 27 is National Gay Men's HIV/Awareness Day, which focuses on the disproportionate impact of HIV on gay and bisexual men in the United States — and what we can do in response.
Greek authorities say 12 crew members of a Maltese-flagged cruise ship on a Greek island tour with more than 1,500 people on board have tested positive to the coronavirus and have been isolated on board.

The 30th Anniversary of the world-renowned Black & Blue LGBTQ Festival and the 3rd edition of the Carnaval des Couleurs of Montreal are postponed to October 2021.