Top Story
President Donald Trump is putting forth a false "Choice" when he boasts about a program aimed at improving veterans' health care by steering more patients to the pri...
1 thru 10 of 15532 Stories
In June, Skittles will again remove its signature rainbow design from packaging and the colors from its candies to recognize LGBTQ Pride month.
Many laid-off workers who lost health insurance in the coronavirus shutdown soon face the first deadlines to qualify for fallback coverage under the Affordable Care Act.
All around the country and the world, bicycles are selling out and officials are trying to take advantage of the growing momentum by expanding bike lanes during the pandemic.
Now that he's the presumptive Democratic nominee, Biden is sharpening his tone, still pitching consensus but touting a "bold agenda" aimed at mollifying progressives.
Many business owners are changing the way they make money as they attempt to recoup revenue lost to the coronavirus outbreak.
"If you are a woman or man and was born in other country, return, go back to your land immediately, fast, with urgency," the note said. It ended with "One American, white, brave, that serves the Nation or USA is going to live here."
A Florida law requiring felons to pay legal fees as part of their sentences before regaining the vote is unconstitutional for those unable to pay or unable to find out how much they owe.
For students at technical and trade colleges, the coronavirus is disrupting their education in a very different way than that of more traditional college students.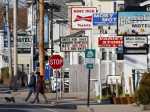 The coronavirus pandemic has thrown tens of millions of people into financial turmoil. But not everyone is feeling the pinch. Not yet, at least.
San Francisco is joining other U.S. cities in authorizing homeless tent encampments in response to the coronavirus pandemic, a move officials have long resisted but are now reluctantly embracing.
1 thru 10 of 15532 Stories