1 thru 10 of 4693 Stories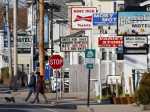 The coronavirus pandemic has thrown tens of millions of people into financial turmoil. But not everyone is feeling the pinch. Not yet, at least.
San Francisco is joining other U.S. cities in authorizing homeless tent encampments in response to the coronavirus pandemic, a move officials have long resisted but are now reluctantly embracing.
Farmers across the nation leaned more heavily upon the federal government last year to finance their agricultural operations amid low commodity prices and trade disputes.
Entrepreneurial types who freelance and side hustle their way through the week likely have access to a tool that could help them thrive: A business credit card.
It is becoming all too clear that without a vaccine against the scourge, the disruptions could be long-lasting and the economy won't be bouncing right back.
President Donald Trump is putting forth a false "Choice" when he boasts about a program aimed at improving veterans' health care by steering more patients to the private sector.
The number of Americans applying for unemployment benefits in the two months since the coronavirus took hold in the U.S. has swelled to nearly 39 million, the government reported Thursday.
Reconsideration of jobless aid is fast becoming the focus of congressional debate over the next virus aid package.
A measure to tax the wealthiest residents and the biggest businesses in Portland, Oregon, to raise $2.5 billion over a decade to address homelessness sailed to victory.
The University of California announced Tuesday that it has divested from all fossil fuels, removing them from its $126-billion investment portfolio.
1 thru 10 of 4693 Stories