Watch: Queer Male Model Nyle DiMarco is Sick but Won't Get Tested for Coronavirus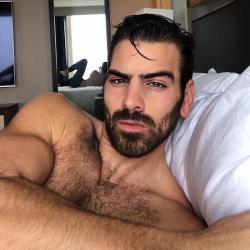 Queer male model Nyle DiMarco took to social media this weekend to tell his fans that he is sick and displaying symptoms of the new coronavirus but explained he will not be tested for it.

In a video he posted to Instagram Saturday, the "America's Next Top Model" and "Dancing with the Stars" winner said he's "been really sick" but is now "on the mend." DiMarco, 30, added that it is "very possible" he contracted COVID-19, and that he has "access to get tested" he won't be doing so.

"The reason is because there is a shortage of COVID-19 test kits in the U.S. and the sick patients need it more than I do," he explained. "I'd like to stress that testing is important."

He said his symptoms included a fever, chills, sore throat and a mild cough, which began earlier in the week. He also said he had a hard time tasting and smelling. After consulting with a doctor, who warned about respiratory issues, "because if it worsened, it could be deadly," DiMarco has since been feeling better.

"In a perfect world, I'd take the test," the model said, adding he is still in self-isolation. "If you are healthy and have no respiratory issues, I encourage you to be mindful of sick patients that need to get tested more than you do. And stay at home to avoid spreading and help flattening the curve."

Watch his video below.




This story is part of our special report titled "COVID-19 And You." Want to read more? Here's the full list.
Comments on Facebook