After Parkland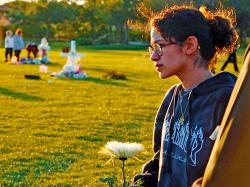 This is probably the most sobering documentaries we have watched for a very long time. The details of the shooting at Marjory Stoneman Douglas High School in Parkland, Florida, that left 17 dead and another 17 injured two years ago, were covered in depth by the media at the time — but that still doesn't lessen the impact of watching the story behind the headlines unfold on screen.
Filmmakers Jake Lefferman and Emily Taguchi, who both work for ABC News, cover the story as dispassionately as possible, but nevertheless it is impossible to watch it without getting very emotional — and extremely angry.
After using newsroom footage of the actual event, the filmmakers focus on a couple of the students who survived, and two fathers who both lost children that day.
Sam Zief and his three brothers are amongst the fortunate survivors, and the next day he finds himself in the White House, taking part in a disgraceful and farcical PR event. When the microphone is passed to him, Zeff emotionally demands to know why these weapons are still available even after the Columbine and Sandy Hook shootings. He adds when there was a mass shooting in Australia, the government acted immediately and banned them.
As Zeff holds back his tears, Trump can be seen barely listening and obviously bored. He will later not even mention the guns and, like all the GOP, try to re-focus attention on the shooter. He will also promise to tighten background checks, but that, as usual, proves to be a blatant lie, as he does absolutely nothing.
Manuel Oliver is the father of Joaquin, a popular student who was killed. Oliver coaches the school's basketball team, a role he keeps after the tragedy as a means to support the students and deal with his own grief. He ends up creating a non-profit action group with his wife to combat gun violence with the slogan "Change The Ref." He is a compassionate and articulate man, and a source of strength to the students; when it comes time for him to collect his late son's high school diploma, it is impossible not to share his and his wife's pain.
Andrew Pollack, his only daughter and was murdered in the shooting, uses his anger to focus on the lack of school security. He too is at the farcical White House meeting, and bellows that if the President won't make schools safer, then he will. Pollack has no time to try to take on the gun lobby in any way, as he is convinced that it is not the problem.
Interestingly, although this was the opposite view of parents like Oliver, the filmmakers chose not to make any issue of it or question either of them.
The other student that is featured in depth is David Hogg. His sister lost four friends in the shooting, and as he articulately expresses his feelings the media hone in on him as an unofficial spokesperson. When he finishes his time at Parkland, David takes a gap year and founds the Never Again campaign against gun violence. This in itself has another extremely nasty effect, as Hogg becomes the target of vicious hate mail. What this shows is how many people are quick to defend gun rights even if that means trampling over anyone, even if they are as young as Hogg, that dares to try to get some classes of firearms — such as assault weapons — banned.
By the time the 90 mins are up, we have been made well aware of the sheer futility of it all. These children and teachers were brutally murdered, and after some in the world mourned and the families affected came to terms with their grief as well as they could, nothing changed
We are reminded that this all happened in February 2018; by the end of that year, there were 340 mass shootings in the U.S., in which 373 people died and 1,346 were injured.
As tough as it is, this movie really needs to be seen by the widest audience possible. Maybe then more people will vote out of power the politicians who seem okay with the ever-increasing blood on their hands.
N.B.: On Wednesday, February 12, 2020, "After Parkland" will screen in over 100 cities across the U.S. as part of a nationwide Day of Conversation to commemorate the second anniversary of the tragic shooting at Marjory Stoneman Douglas High School.
Roger Walker-Dack, a passionate cinephile, is a freelance writer, critic and broadcaster and the author/editor of three blogs. He divides his time between Miami Beach and Provincetown.
Comments on Facebook