Watch: Gay Church Janitor Blows 'American Idol' Judges Away with Moving Performance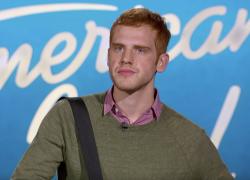 A man from Baltimore left "American Idol" judges Katy Perry, Lionel Richie and Luke Bryan stunned with a performance of an original song in which he sings if he will be allowed into heaven because he's gay.

Jeremiah Lloyd Harmon, who is gay and works as a janitor at his father's church, left the three judges shocked with his song called "Almost Heaven."

"When you opened your mouth and started singing I went straight to Billy Joel and then you kept singing and you passed Billy Joel," Richie said. "Your range is incredible.

"Your voice is incredible," he added. "In the 11th and a half hour we are blessed to have you."

Perry asked him, "Do you know how good you are?" and also referred to him as a "P.K.," or, pastor's kid.

The Huffington Post points out that his family's reaction to him coming out as gay deeply affected him.

Watch his performance below.
Comments on Facebook