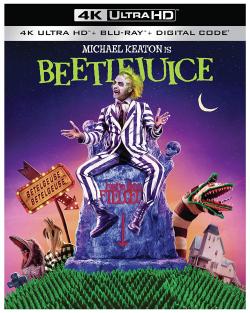 What's a couple of stay-at-home ghosts to do when their beloved home is taken over by trendy yuppies? They call on Beetlejuice, the afterlife's freelance bio-exorcist to scare off the family — and everyone gets more than she, he or it bargains for! Tim Burton guides this PG-rated comedy monsterpiece whose stars include Alec Baldwin, Geena Davis, and Winona Ryder. And Michael Keaton is Beetlejuice, the ghost with the most who flings one-liners, spins into grotesque forms, gobbles insects, and who just can't leave the ladies (living or dead) alone. Ghoul love it!

Beetlejuice was brought to life from the imaginative mind of Tim Burton who went on to produce and direct some of the most visually stunning films of our time such as Batman, Edward Scissorhands, The Legend of Sleepy Hollow, Big Fish and Sweeney Todd: The Demon Barber of Fleet Street. Beetlejuice also received an Academy Award® for Best Makeup with renowned makeup artist and three-time Oscar-winner Ve Neill, and went on to be ranked on AFI's Top 100 list of Funniest American Movies.
Enter this contest
If you already have an account with EDGE, all you need to do is log in; we'll pull your address information from your account and simply ask you to verify it. If you do not yet have an account with us, register now! It's easy and free, and you'll never have to type in your personal information again. If you prefer to enter this information manually, you can use the manual entry link below.
Register
Click here for contest rules.
* Please be aware that creating multiple accounts for the same person will disqualify you.