Gay Washington: The Latest
With cities wounded by days of violent unrest, America headed into a new week with neighborhoods in shambles, urban streets on lockdown and shaken confidence about when leaders would find the answers to control the mayhem amid unrelenting raw emotion over
Joe Biden's search for a running mate could be reshaped by the police killing of George Floyd and the unrest it has ignited across the country, raising questions about contenders with law-and-order backgrounds.
Herbert Stempel, a fall guy and whistleblower of early television whose confession to deliberately losing on a 1950s quiz show helped drive a national scandal and join his name in history to winning contestant Charles Van Doren, has died age 93.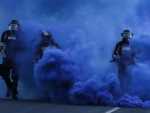 "After shouting press multiple times and raising my press card in the air, I was thrown to the ground. Then another cop came up and peppered sprayed me in the face while I was being held down."
Federal law enforcement officials insisted far-left groups were stoking violence. Meanwhile, experts who track extremist groups also reported seeing evidence of the far-right at work.
Tens of thousands of protesters took to the streets across America again Sunday, with peaceful demonstrations against police killings of black people overshadowed by unrest.
Secret Service agents rushed President Donald Trump to a White House bunker on Friday night as hundreds of protesters gathered outside the executive mansion.
In hindsight, Rosa Jimenez Cano realizes that attending a protest against police brutality was risky — and not just for the usual reasons.
SpaceX delivered two astronauts to the International Space Station for NASA on Sunday, following up a historic liftoff with an equally smooth docking in yet another first for Elon Musk's company.
In rewriting Hollywood history, does "Hollywood" do a disservice to the real Rock Hudson, who remained closeted throughout his career.
Americans are cleaning up charred and glass-strewn streets after another night of unrest fueled by rage over police mistreatment of African Americans destroyed businesses, damaged landmarks and raised tensions across a divided nation to the boiling point.
Will Ronan Farrow be writing "Daddy Dearest" next?
The coronavirus pandemic has created a staggering child care crisis that threatens to undermine the reopening of the U.S. economy.
Tech firms could potentially find much bigger markets for their artificial intelligence and other emerging technologies.
Hospitals around the country are afraid to send out hundreds of thousands of bills related to COVID-19 testing. That's because Congress mandated there would be no copays and no out-of-pocket costs for patients. But who's paying?
For some automakers, full production has been delayed, or it's been herky-herky, with production lines stopping and starting.
The cheap, boxed meal has long been a poster child for processed food. While it's often dismissed as stuff for kids, a lot of grownups secretly savor it.
Mental health and mental illness are not simply two sides of the same coin. Mental health, just like physical health, exists on a spectrum from poor to optimal.
About 3 million businesses benefit from Europe's normally wide-open borders, helping make the continent the world's top tourism destination with half of all global arrivals.
When Mr. Gay World 2020 had to be put off to next year, the plan was for first runner-up from 2019 to serve an interim term. Then an ironic twist emerged - one with a heroic tinge.