Top Story
An assailant who attacked a Minneapolis news anchor and left him with a potentially permanent eye injury had no other motive for the attack than the assumption that his victim was ...
1 thru 10 of 53737 Stories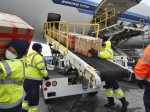 States are spending billions of dollars stocking up on medical supplies such as masks and breathing machines during the coronavirus pandemic. But more than two months into the buying binge, many aren't sharing details about how much they're spending.
President Donald Trump booked back-to-back Memorial Day appearances despite the coronavirus pandemic, at Arlington National Cemetery and at a historic fort in Baltimore.
The coronavirus hasn't been kind to car owners.
"The Stud" closes (maybe), Hydroxygate goes nuclear, and how to protect yourself in a bar fight. All this and more in this week's "Slightly Used News" - tune in now!
Takeout and delivery is getting a five-star makeover thanks to high-end restaurants that are quickly pivoting to stay afloat, keep their employees on the payroll, and serve their communities.
In June, Skittles will again remove its signature rainbow design from packaging and the colors from its candies to recognize LGBTQ Pride month.
A Florida law requiring felons to pay legal fees as part of their sentences before regaining the vote is unconstitutional for those unable to pay, or unable to find out how much they owe, a federal judge ruled Sunday.
Many laid-off workers who lost health insurance in the coronavirus shutdown soon face the first deadlines to qualify for fallback coverage under the Affordable Care Act.
When President Donald Trump doesn't like the message, he shoots the messenger.
Now that he's the presumptive Democratic nominee, Biden is sharpening his tone, still pitching consensus but touting a "bold agenda" aimed at mollifying progressives who remain skeptical.
1 thru 10 of 53737 Stories