Top Story
An assailant who attacked a Minneapolis news anchor and left him with a potentially permanent eye injury had no other motive for the attack than the assumption that his victim was ...
1 thru 10 of 53738 Stories
President Donald Trump threatened Monday to pull the Republican National Convention out of North Carolina if the state's Democratic governor doesn't immediately sign off on allowing a full-capacity gathering in August.
Hana Kimura, a Japanese pro-wrestler who appeared in the latest series of the popular reality show "Terrace House," has died. She was 22.
A Kentucky actor who appeared on the FX series "Baskets," and had been recently released on a rape charge shot and wounded a woman before killing himself, officers said.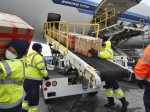 States are spending billions of dollars stocking up on medical supplies such as masks and breathing machines during the coronavirus pandemic. But more than two months into the buying binge, many aren't sharing details about how much they're spending.
President Donald Trump booked back-to-back Memorial Day appearances despite the coronavirus pandemic, at Arlington National Cemetery and at a historic fort in Baltimore.
The coronavirus hasn't been kind to car owners.
"The Stud" closes (maybe), Hydroxygate goes nuclear, and how to protect yourself in a bar fight. All this and more in this week's "Slightly Used News" - tune in now!
Takeout and delivery is getting a five-star makeover thanks to high-end restaurants that are quickly pivoting to stay afloat, keep their employees on the payroll, and serve their communities.
In June, Skittles will again remove its signature rainbow design from packaging and the colors from its candies to recognize LGBTQ Pride month.
A Florida law requiring felons to pay legal fees as part of their sentences before regaining the vote is unconstitutional for those unable to pay, or unable to find out how much they owe, a federal judge ruled Sunday.
1 thru 10 of 53738 Stories