Gay Men's Chorus of South Florida Loses A Member to COVID-19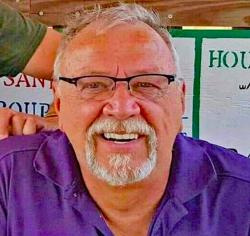 The worsening coronavirus pandemic has reached the United States and quickly begun claiming victims. Among them: A member of the Gay Men's Chorus of South Florida, reports NBC Miami.
George "Skip" Panse, an event planner, died on March 25. His passing was noted by the executive director of the chorus, Mark Kent, who took to Facebook to share the heartbreaking news.
"It is tough to know that Florida's death toll from the Coronavirus has climbed to 23 and one of them is a dear man I knew and who was a member of the Gay Men's Chorus of South Florida. We lost Skip to the virus yesterday," posted Kent on March 26.
"I am usually not public about personal pain, but I share this in the hope that it helps more people take this epidemic seriously. Please stay home and stay safe," Kent added. "My prayers for Skip's loved ones."
LGBTQ choruses have been an integral part of the long struggle for equality in the United States and abroad, coming together in the shadow of the AIDS crisis. For may gay men, the current COVID-19 pandemic bears unsettling parallels to that earlier crisis, with a slow and stumbling government response, fear around contracting the illness, and attempts from the anti-gay Christian right to push blame for the outbreak onto sexual minorities with claims that the disease is some form of "divine punishment" visited upon the world by a homophobic supreme being.
COVID-19 is highly contagious and can easily be passed from person to person via personal contact (handshakes, hugs) as well as by touching surfaces where virus-bearing droplets of moisture - spread by coughing, sneezing, or even speaking - have settled.
Though a widespread - and fallacious - belief persists that younger people are less vulnerable to the virus, COVID-19 can affect people of any age group. People with chronic health conditions such as heart disease, immunosuppression, or diabetes, are thought to be more vulnerable. Social distancing - that is, the avoidance of crowds and personal contact - is one effective means of limiting the spread of the virus, which is why some European governments have imposed quarantine conditions on regions, or even whole nations.
America has no such national lockdown, and the president only recently acknowledged that the disease is both serious and warrants social distancing measures, after having initially ignored intelligence reports warning of an impending epidemic and then downplaying both the risk and the seriousness of the disease. The president and his supporters have also called concerns around COVID-19 a "hoax" as well as minimizeing the dangers of the pandemic around the pandemic and accusing Democrats of trying to create a national panic in order to discredit the current administration.
Though many people experience only mild or moderate symptoms, those who fall seriously ill need hospitalization and can suffer acute respiratory failure. COVID-19 is ten times deadlier than the flu.
Health experts have warned that gatherings of any kind can heighten the risk of spreading the disease, leading some evangelicals to push back and call upon the faithful to gather in large groups for worship services.
But https://abcnews.go.com/Business/businesses-adapting-coronavirus-pandemic-economy/story?id=69748107 businesses> and state and local governments are taking the threat seriously.
Unfortunately, gatherings such as rehearsals for choruses are just as apt as any other sort of congregation of people to spread the virus. The New York Times reported on a gay chorus in the Seattle area, the Skagit Valley Chorale, that met for rehearsal with 60 members earlier this month 45 members later came down with the illness, the Times reported.
Health experts advise that members of the public not only self-isolate as much as possible during the pandemic, but also wash their hands thoroughly and frequently with soap and hot water. Handwashing can reduce the risk of contracting the virus by removing viral particles.
Kilian Melloy serves as EDGE Media Network's Assistant Arts Editor. He also reviews theater for WBUR. His professional memberships include the National Lesbian & Gay Journalists Association, the Boston Online Film Critics Association, The Gay and Lesbian Entertainment Critics Association, and the Boston Theater Critics Association's Elliot Norton Awards Committee.
Comments on Facebook