1 thru 10 of 7572 Stories
Republicans in northwest Iowa ousted Rep. Steve King in Tuesday's primary, deciding they've had enough of the conservative lightning rod known for making incendiary comments about immigrants and white supremacy throughout his nearly 20 years in Congress.
Joe Biden is on the cusp of formally securing the Democratic presidential nomination after winning hundreds more delegates in primary contests that tested the nation's ability to run elections while balancing a pandemic and sweeping social unrest.
Joe Biden blistered President Trump a day after police drove back peaceful protesters near the White House so Trump could pose with a Bible before a damaged church. Biden said Trump's "narcissism has become more important than the nation that he leads."
Joe Biden could seize the number of delegates needed to formally clinch the Democrats' presidential nomination on Tuesday as seven states and the District of Columbia push through a pandemic and exploding racial tensions.
He didn't talk about Floyd, the church or the damage it had suffered, or the peaceful protesters police had cleared. He said nothing about the coronavirus pandemic.
He has responded to the violence with a string of polarizing tweets, one starkly laying out the political stakes by underscoring the approach of Election Day.
Joe Biden met with community leaders at a predominantly African American church in Delaware Monday morning, leaving home for a second consecutive day to address exploding racial tensions that have begun to reshape the upcoming presidential election.
Joe Biden's search for a running mate could be reshaped by the police killing of George Floyd and the unrest it has ignited across the country, raising questions about contenders with law-and-order backgrounds.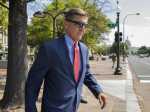 Transcripts of phone calls that played a pivotal role in the Russia investigation were declassified and released Friday.
President Donald Trump spent Friday walking back his post-midnight "thugs" tweet about Minneapolis protesters that added to outrage over the police killing of a black man.
1 thru 10 of 7572 Stories