Gay Washington: The Latest
A new flock of celebrities and fashion brands have joined forces to create capsule collections to elevate your wardrobe to a new level. Here's a look at the latest fashion trends emerging for 2021.
There's little doubt that a pic of Joseph Baena will bring to mind his famous dad — Arnold Schwarzenegger.
Yuri Tolochko is the most cleverprankster to come out of Kazakhstan since Borat, and he proves it time and again.
Norway is fining gay dating app Grindr $11.7 million for failing to get consent from users before sharing their personal information with advertising companies, in breach of stringent European Union privacy rules.
A video of a packed dance floor in an Australian gay club soundtracked by Lady Gaga is going viral, sparking social media to long for the pandemic to end and even earning a response from the pop star herself.
In a video obtained by LGBTQ Nation via Rightwing Watch, anti LGBTQ activist Scott Lively made the bold claim that former President Trump was removed from office by God due to his support of gay men.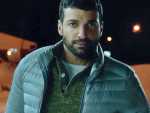 Out actor Haaz Sleiman is part of Marvel Universe history in the upcoming "Eternals," playing the husband of gay superhero Phastos. He's more down-to-earth is his current role in the gay-rom com "Breaking Fast."
Actor and AIDS activist Nathaniel Hall, a star of the '80s-set miniseries "It's A Sin," became positive after his very first sexual relationship. That eventually led to his one-man show and his efforts to combat stigma.
The apartment of the "Adorable Deplorable" — far-right gay hairstylist and Trump supporter Kristopher Dreww — was raided and searched by the FBI on Monday
"The Walking Dead" just took a proverbial hatchet to brain-eating homophobia on social media.
Two men in Indonesia's conservative Aceh province were publicly caned each 77 times Thursday after neighbors reported them to Islamic religious police for having sex.
A look at some of the celebrities who shared their thoughts after learning Oscar-winning actor Cloris Leachman died this week. She was 94.
A David and Goliath saga is unfolding in financial markets over the stock price of struggling retail chain GameStop. On Wednesday, Goliath walked away from the battle. Two Goliaths, actually.
There are many circulating around the world, but health experts are primarily concerned with the emergence of three.
A new feature profiles LGBTQ people who have broken into that elite club of millionaires and billionaires.
The CEO of Stellantis, the carmaker created from the merger of PSA Peugeot and Fiat Chrysler, said Tuesday that the tie-up will help preserve jobs, factories and the 14 storied brands.
Bernie Sanders went from becoming a hit meme to a nearly $20,000-crochet doll in less than a week.
The Biden administration launched its new level-with-America health briefings Wednesday with a projection that as many as 90,000 more in the U.S. will die from the coronavirus in the next four weeks.
Here's a look at why Palm Springs is on the top of our destination list for the coming year and what makes the desert dream the ideal getaway.
LGBTQ bars and restaurants in greater Los Angeles are struggling to survive the second, and latest, COVID lockdown. Crowdfunding has proven to be a lifeline for many.