Gay Washington: The Latest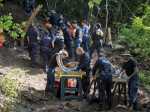 A recently released report found that anti-gay bias prevented Toronto's police force from stopping the murder of eight gay men.
When Prince Philip's funeral takes place on Saturday, it will be more than a focal point for national mourning.
In certain circles of San Francisco, a case of syphilis can be as common and casual as the flu.
A rare, rogue immune response is the main suspect as authorities investigate highly unusual blood clots following use of two similar COVID-19 vaccines from Johnson & Johnson and AstraZeneca.
Don't panic. U.S. health officials on Tuesday recommended pausing vaccinations with J&J's shot as they look into reports of six clots out of nearly 7 million doses given in the country.
An expansive new show featuring works by Japanese artist Yayoi Kusama, famous for mesmerizing polka dots, speckled pumpkins and fascination with the natural world, has opened at The New York Botanical Garden.
Did you ever consider that your business checking account could offer features designed to help grow, manage and streamline your business?
In an interview with GQ this week, Justin Bieber bashed religious organizers and pastors who, in his words, "put themselves on this pedestal."
Following the announcement last week that "Bridgerton" star Regé-Jean Page would not be returning to the show, which was renewed by Netflix for Season 3 and 4, it's being reported that clashes with the show's producers might have led to his departure.
"Queer Eye" star Tan France is set to become a father, with him and his husband Rob expecting their first child through surrogacy.
While most Americans have weathered the pandemic financially, about 38 million say they are worse off now than before the outbreak began in the U.S.
Aussie hunk Harry Jowsey has joined the cast of the new MTV reality dating show "Match Me If You Can."
The Tropicana Las Vegas Hotel and Casino, a Sin City namesake, is being sold to a new entrant among Las Vegas Boulevard resort owners.
Dozens of Americans are rolling up their sleeves for a third dose of COVID-19 vaccine -- this time, shots tweaked to guard against a worrisome mutated version of the virus.
Unlike investment portfolios, annuities or pensions, Social Security is the only retirement income that is guaranteed for life and backed by the full faith and credit of the United States government.

Dubai said Monday that U.S. self-driving car company Cruise will become the first to operate autonomous taxis and ride-hailing services in the United Arab Emirates city of more than three million people.
Now, that's how you break out of lockdown! "RuPaul's Drag Race UK" contestant A'Whora burst out of a giant 15-foot rose gold padlock in East London to celebrate the easing of lockdown restrictions.
"Hamilton" creator Lin-Manuel Miranda joined New York City Mayor Bill de Blasio on Monday at the grand opening of a Times Square COVID-19 vaccination site intended to jump-start the city's entertainment industry.
White Party Palm Springs, known as the largest U.S. circuit event, has moved its dates for this year's event from September to Halloween.
During Boston's annual Gay Pride Parade in June, these establishments are much busier than normal. Here are the top 5 LGBTQ bars in B-town.