Gay Washington: The Latest
A federal agency with a shady past and shadowy image, has gotten woke with a series of recruitment ads that have been met with criticism and ridicule. The ads are part of the Central Intelligence Agency's ongoing "woke" recruitment campaign.
Their break-up may not have gotten the headlines that J-Lo and Arod may have gotten recently, but gay Manhattan was abuzz this week about the break-up of LGBTQ influencer Jack Mackenroth and adult star Dolf Dietrich that went very public this past weekend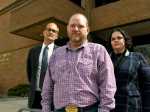 Randall Menges went to prison and had to register as a sex offender for having consensual gay sex when gay sex was illegal in the state. A Montana judge is finally letting him off the offender list.
For Disney+'s new animated series "The Proud Family: Louder and Prouder," the two actors will voice a gay adoptive couple and their character animations could not be more perfect.
Research reveals that "three-fourths of LGBT people (74%) say worry and stress from the pandemic has had a negative impact on their mental health." Research shows that CBD can help manage stress and anxiety.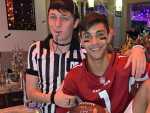 Adult performer Alex Riley has died. The 22-year-old passed away on Sunday, his longtime boyfriend and fellow performer Jacob Hansen tweeted Thursday.
If you're a millennial or Gen Z, you may be laughing now, but it's no joke if you find yourself wincing in pain every time you hop in the sack.
Ellen DeGeneres told the world that she is quitting her daily talk show next year because she is looking to do something different. It had nothing to do with the charges of a toxic workplace environment that her management style contributed to, she said.
Equality advocates have taken note of the record-shattering number of anti-LGBTQ laws that have already been passed this year — and the situation is poised to worsen.
A London aquarium counts not one, but two same-sex penguin couples, as the new mating season gets underway — and both couples are all-female.
Instagram is rolling out a new feature in some countries that allow users to add their pronouns to their bio.
YouTube celebrity and beauty influencer James Charles has resurfaced on social media, claiming in a video posted to Twitter that he feels he is being "blackmailed" by a former employee who is suing him.
A table game such as poker has certain elements to its strategy that can then be reapplied to business scenarios.
Sc A potentially worrisome variant of the coronavirus detected in India may spread more easily. But the country is behind in doing the kind of testing needed to track it and understand it better.
Lemonade has turned wishful thinking into a reality with a technology-driven business model that makes acquiring various insurance types as easy as a few clicks, as well as a robust social action plan.

The U.S. government's auto safety agency is investigating multiple complaints about steering failures that could affect more than 1.1 million Honda Accord sedans.
The upcoming Ryan Murphy-produced, Netflix series "Halston" has had considerable buzz lately, but don't look for the designer's family and archivists to show much love for the show. They have stepped forward to call the series "inaccurate."
Unequal access to gender-affirming health care, which occurs across state lines and socioeconomic divides, could cause two "classes" of transgender people in the United States to emerge.
The German government has agreed to let travelers who have been vaccinated against COVID-19 or recovered from infection avoid testing and quarantine when entering the country, unless they come from areas where variants of concern are prevalent.

The author of "Still Straight: Sexual Flexibility among White Men in Rural America" investigates why some men who identify as straight have sex with other men.