Top Story
Runway met Broadway when The Blonds took to the stage of the splashy musical "Moulin Rouge."
Highlights from Sunday's shows on the fifth day of Milan Fashion Week mostly womenswear previews for Spring/Sumer 2020.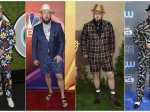 Chris Sullivan may or may not win at this weekend's Emmy Awards, but it's a sure bet that when he strikes a pose on the red carpet, his unconventional attire will make a statement.
Jennifer Lopez won Milan Fashion Week on Friday, wowing the crowd at Versace when she emerged wearing a version of the jungle dress that nearly broke the internet almost 20 years ago.
A naïve streak is running through the collections on preview during Milan Fashion Week — with a return to simpler times, yesteryear prints and patterns and unfussy silhouettes.
Walgreens and a Google affiliate are testing drone deliveries that can put drugstore products on customer doorsteps minutes after being ordered.