1 thru 10 of 4109 Stories
From a humble start of leaving the world of finance to write a beauty blog, Huda Kattan now has become one of the most recognizable names in makeup around the world.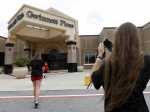 Most of the Georgia mall heavily featured in the latest season of Netflix's "Stranger Things" is going up for sale.
Thousands of pairs of Nike knockoffs were seized at the Los Angeles-Long Beach ports complex recently in a shipment arriving from China, U.S. Customs and Border Protection said Wednesday.
Not long after their wedding ceremony, Justin and Hailey Bieber are sharing steamy pics from a new Calvin Klein campaign.
Ettinger, one of Britain's finest luxury leather accessories brands, has opened its U.S. 'Flagship Residency' in Turnbull & Asser's storied New York Townhouse in the heart of Manhattan.
Online shoe brand Allbirds plans to more than double its store count next year, hoping to reach shoppers who want to touch and try on its wool shoes.
Author Marcellas Reynolds profiles more than 70 black models from the past 60 years in his new book, "Supreme Models."
Nothing says it's fall quite like flannel does. Pumpkin spice comes close, but the comfort of a great flannel shirt just makes everything right in the world.
State and Liberty Clothing Co. has gone viral with a new Instagram ad featuring Detroid Red Wings alternate captain Dylan Larkin, featuring him lamenting the lack of good-fitting dress pants for athletes, especially those with "hockey butt," like Larkin.
Italian fashion house Gucci has launched a $1.5 million U.S. university scholarship program that is aimed at students who are "traditionally underrepresented" in the fashion industry.
1 thru 10 of 4109 Stories